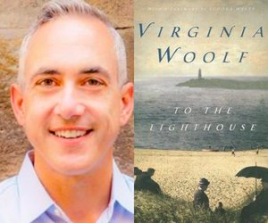 "On or around December 1910, human character changed." Virginia Woolf's To the Lighthouse, with Jared Stark.
"On or around December 1910, human character changed." Virginia Woolf's 1927 masterpiece To The Lighthouse teaches us how to take stock of the experience of living in the modern age. We know that we experience time not uniformly, but how do we make sense of that? How can it be that years pass and we barely blink an eye, but an afternoon can stretch into near-eternity, when we want something, or are denied what we desire? How do we account properly for the different ways in which men and women pass their time during a period when such roles were about to be challenged so powerfully by many including Woolf, in this book and also in Three Guineas, and A Room of One's Own? Is consciousness the true standard for experience, and external, measured time only the tide against which we strive to assert ourselves?

Professor Jared Stark is a scholar of literature and Professor of Literature and Comparative Literature at Eckerd College in Florida. He has written about Woolf and taught her works for many years. His most recent book, A Death of One's Own: Literature, Law, and the Right to Die was published in 2018. Special thanks to Tamsin Shaw, author of Nietzsche's Political Skepticism, for lending her voice (reliving childhood moments when her mother asked her to recite Woolf for dinner guests!) to some of Woolf's quotes.